'She's a hell of a horse.' Winx chases 26 as Black Caviar's connections cheer her on
Source: Peter Ryan
On the same day Winx returns to racing aiming for her 26th consecutive win, the turf's other once in a generation galloper (yes, we've been lucky) Black Caviar will turn 12, having been born on August 18, 2006.
It's a nice coincidence as the two superstars sit locked together, potentially for the last time, on 25 straight wins before Winx attempts to stretch her winning streak past Black Caviar's unbroken sequence to 26 at Randwick on Saturday at 3pm.
It will be the start of a campaign that connections and racing fans hope will take Winx to a record breaking fourth Cox Plate in a row and push her consecutive wins up to 30.
Of course, Black Caviar was never beaten whereas Winx, trained by Chris Waller, began her brilliant run on the Sunshine Coast at her 11th start having won three of her first 10 starts.
Black Caviar's trainer and jockey, Peter Moody and Luke Nolen, are, like most, hoping Winx can roar past the 25 wins in a row mark and will be watching Winx in the 1400 metre group 1 run in her name.
"She's a hell of a horse and let's hope she gets the job done," Moody told Fairfax Media.
Nolen, an outstanding jockey who recently returned to racing after a short break due to injury, understands the pressure that Winx jockey Hugh Bowman will be under when he heads out on the track.
Nolen held his nerve throughout, riding the sprinting mare in 22 of her 25 wins, which included the nailbiting effort at Ascot, the overseas challenge Winx's connections have so far resisted.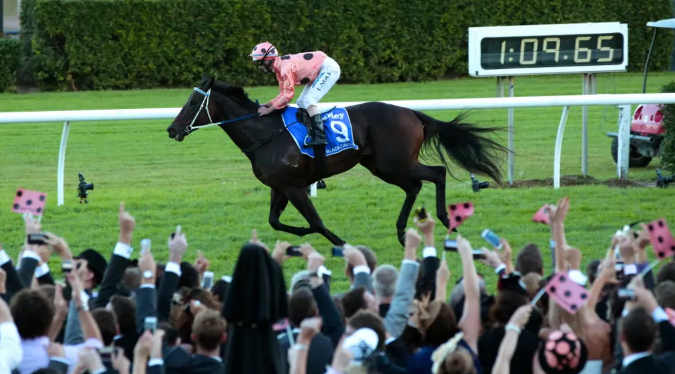 "It's a good pressure to have," Nolen told Fairfax Media. "She [Black Caviar] had a good racing style."
While all racing fans know the differences between the two equine champions, the enormity of what they achieved is comparable and, in the minds of non-racing fans captivated by their record, unbelievably alike.
Nolen said Black Caviar's long stride was unique while Winx's characteristics aren't as obvious to the eye.
However, as Nolen says, Winx, like Black Caviar, "smashes the clock".
Both champions, both freaks appearing in the same era.
"It's the things you don't see with in these sorts of horses, the one percenters, that make them they champions that they are," Nolen said.
BLACK CAVIAR
Record: 25-25-0
Prizemoney: $7,953,936
Winning Streak: April 2009 – April 2013
Group 1 wins: 15
Distance range: 1000-1400 metres
Trainer: Peter Moody
Jockeys: Luke Nolen (22 wins), Ben Melham (one win), Jarrad Noske (two wins)
Closest margin: 0.2 lengths (Ascot, June 2012, 1200m)
States:
Vic 19-19-0
NSW 2-0-0
SA 2-0-0
Qld 1-0-0
International 1-0-0

WINX
Record: 35-29-3-0
Prizemoney: $18,998,425
Winning Streak: May 2015 –
Distance range: 1300-2200 metres
Jockeys in winning streak: Hugh Bowman (23 wins), James MacDonald (one win), Larry Cassidy (one win)
Group 1 wins: 18
Closest margin: 0.2 lengths (Rosehill, September 2015, 1300m; Randwick August 2017 1400m)
States:
NSW 28-22-3-0
Vic 5-5-0
Qld 2-2-0