Jockey Bowman says Winx 'better than ever' for Chipping Norton
Source: SMH /
If there are rules to what a horse can and should do,  champion mare Winx seems to break all of them.
Unbeaten for nearly four years, Winx will look for a world-record 23rd group 1 victory in the Chipping Norton Stakes at Randwick on Saturday and stretch her winning run to 31.
But, remarkably, jockey Hugh Bowman believes she might be at her best in farewell campaign as a seven-year-old mare.
"She is probably better to be perfectly honest. She is a little more relaxed as I pointed out leading into the first run, which to me is a very good sign," Bowman said.
"She was little bit stronger this morning [in a gallop], so those competitive juices are certainly flowing through her veins. I'm sure we will see another good performance on the weekend."
Winx's trainer Chris Waller has often marvelled at her will to win and Bowman gave a little insight into what it feels like on top of such a a supreme competitor.
"The time for me, when I really feel it, is when I let her go and there's a couple of horses in front," he said.
"She really strides and really attacks to get to the front. She's the most competitive individual I've ever had anything to do with.
 "You can see the ears go back and you know it's smooth and it's finesse.
"But it's power and it's that will to win, along with her ability. It's that will to win when I let her go, that extreme purpose that she moves with, that sets her apart."
Winx is a $1.09 favourite on Saturday and while for most she hasn't been a betting proposition for a long time the TAB has still been laying big bets at the short odds.
There have been bets of $106,000, $150,000, $99,000 and $120,000 this week and more are expected to come.
"The shortest price Winx has started a race with TAB Fixed Odds during her 30-race winning run is $1.08, which occurred in the 2016 George Main Stakes, but the $1.09 currently on offer for Saturday's TAB Chipping Norton Stakes is the same price she was for this race 12 months ago," TAB's Trent Langskaill said.
"Just over $2.4 million was paid out by TAB Fixed Odds on Winx in the Apollo Stakes a couple of Saturdays ago and the payout figure will probably be a similar amount if the four-time Cox Plate champion wins for the 31st straight time on Saturday."
Winx will match the effort of Tie The Knot if she can do as expected on Saturday and win a fourth Chipping Norton. She will also become the first horse to win two group 1s on four occassions.
There is always confidence from Bowman about Winx, but it was heightened after he worked her with group 1 winning stablemate Unforgotten on Tuesday.
"She is just different [to other horses]," Bowman said. "I got that feeling on Tuesday morning when I worked with Unforgotten. Her work was exceptional.
 "I could honestly say Unforgotten is probably the best horse Winx has worked with and Unforgotten worked really well but Winx just did it as she does on raceday.
"She's just got gears that other horses don't have.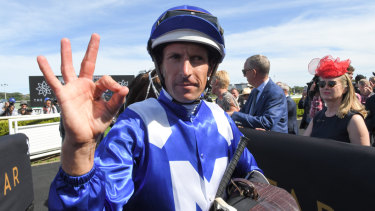 "The maturity and the knowledge we have as to where she's at these days, she could probably do it without me, in fact I'm sure she could but someone's got to ride her so I guess I'll have to do that."
Waller believes the mature Winx is just used to her routine and winning, which makes his job that little bit easier.
"She knows where the winning post is, she has just become used to winning. I think that has just become habit," he said.
"Just the fact she knows what she is doing is probably the most uncanny part of Winx.
"It helps Hugh get out of situations that happen in any race. It helps myself, if she is a little underdone or overdone and not having the perfect training preparation. She just seems to bring it all together and make us look good."
The public interest in Winx has the crowd on track to once again exceed 15,000 judging by the pre-sale of tickets.
The Australian Turf Club will announce a competition to try and find Winx's biggest fan on Friday, which will run over the next six weeks.
 The competition will be based online with fans asked to post picture and videos about their love for Winx.