Cox Plate 2018 | Winx wins historic fourth straight Cox Plate
Source: news.com.au
WINX has done it again, shattering yet another record as she continues to solidify her place among the sport's legends.
The win was her 29th straight and gave her a fourth Cox Plate as she became the first horse to win the prestigious race four times. She moved ahead of Kingston Town, who won the silverware in 1980, 1981 and 1982.
Winx was in a tremendous position before taking the lead on the final bend as she pushed to the outside and saw off a brave fight from the second placed finisher Benbatl.
Winx's jockey Hugh Bowman was almost speechless after the race and revealed he needed to speak with friends throughout the week to calm his nerves as he and his partner in crime chased history.
"I can't believe it," Bowman said. "I really thought in the build up to this I would get quite emotional. I am feeling emotional but the electricity that came through my body when I turned into the home straight was something that I guess I only get to feel but everyone watching … oh I don't know. I'm lost for words.
"Everyone watching gets so much joy and pleasure out of this wonderful horse. The fact that she's been able to do it so many times consecutively just speaks volumes for the management of her, but I just — what can I say?"
Trainer Chris Waller's voice was cracking and he had tears in his eyes after the performance.
"It certainly hasn't sunk in. I'm just trying to keep myself collected. When it sinks in it's going to be very emotional," he said.
"Going past the straight the first time I was a little concerned she might get caught three wide but it all just unfolded very well. The speed wasn't too strong. She only performs under pressure.
"To see her unleash as she does, I was looking for Humidor coming off her back and seeing how the others were travelling but she had them covered a long way from home."
Fans were blown away by yet another incredible performance from the mighty mare.
Speaking before the race, legendary race caller Bruce McAvaney said he's never seen anything like the Winx fever sweeping the nation and likened her to the legendary Phar Lap.
"We weren't there in 1930 when Phar Lap won four races at Flemington," he said. "This is as close as we've ever been to anything that might have resembled that. It was the depression in those days.
"The hold he had over this country — I have been following racing for 60 years. I have never known a day like this, a build up like this. It's remarkable."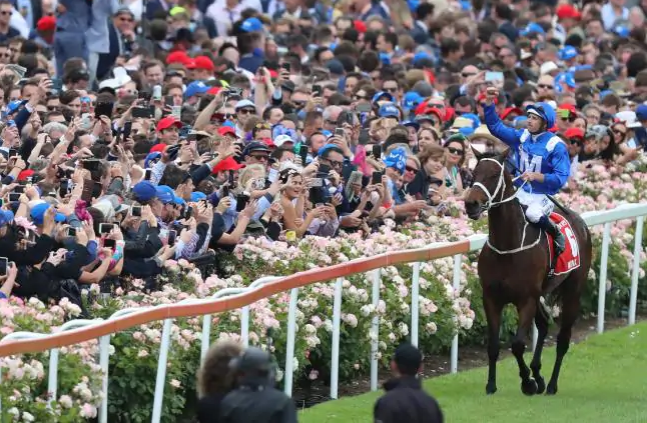 Waller said Winx was looking good in the lead up as she prepared for the record breaking Cox Plate tilt. Winx has now won 29 races in a row including 22 Group One victories.
One punter was so convinced she'd take out the race they put a whopping $201,200 on her on Saturday morning. The wager beat the previous highest outlay, also by the same person, of $170,000 at $1.16 in the Turnbull Stakes earlier in the month.
"We were asking the question during the week as to whether or not this punter would be coming back to have another crack at Winx and we didn't have to wait too long this morning to find out," TAB's Andrew Georgiou said.
"The punter has invested seven-figures on her throughout her winning run and just keeps rolling the dice.
"This latest bet is the biggest we've ever taken on Winx and passes the $170,000 which was outlaid on her to win the Turnbull Stakes a few weeks back."
Waller was convinced Winx was as good as ever and went into Saturday in basically the same condition as before her third Cox Plate last year when she repelled a strong challenge from Humidor to better the 2040m track record she set in her first Cox Plate in 2015.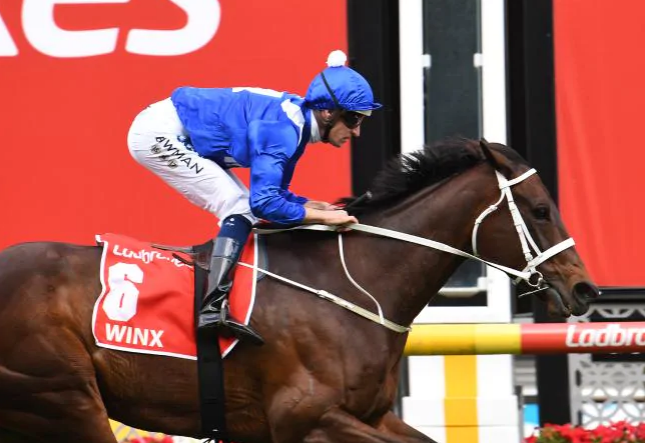 THE DAY OF RACING
Race 1 (12.10pm) — Inglis Banner (1000m)
1. ESPAANIYAH
2. BISCARA
3. SALOME
Race 2 (12.40pm) — Strathmore Community Bendigo Bank Handicap (955m)
1. ASLOR
2. DESERT LASHES
3. INVINCIBLE AL
Race 3 (1.15pm) — Powerflo Solutions Stakes (1600m)
1. SHOKO
2. MAMZELLE TESS
3. PRINCESS POSS
Race 4 (1.50pm) — Harolds Crockett Stakes (1200m)
1. BEAUTY
2. RAINBOW GIRL
3. PHOTO
Race 5 (2.25pm) — 1300 Australia Stakes (1200m)
1. CHARGE
2. SUNSET WATCH
3. RINGERDINGDING
Race 6 (3pm) — Aquis Farm Fillies Classic (1600m)
1. MYSTIC JOURNEY
2. FUNDAMENTALIST
3. EL DORADO DREAMING
Race 7 (3.35pm) — Schweppes Crystal Mile (1600m)
1. CLIFF'S EDGE
2. PRIZED ICON
3. DUCA VALENTINOIS
Race 8 (4.10pm) — McCafe Moonee Valley Gold Cup (2500m)
1. VENTURA STORM
2. TRAP FOR FOOLS
3. LIBRAN
RACE 9 (5PM) — LADBROKES COX PLATE (2040m)
1. WINX
2. BENBATL
3. HUMIDOR
Race 10 (5.50pm) — Drummond Golf Vase (2040m)
1. STARS OF CARRUM
2. SAVOIE
3. ARAMAYO