28 daze: Champion mare Winx enhances her reputation
Source: Michael Lynch
The sun was shining, the sky was a brilliant blue and the stands were packed.
The expectant crowd was roaring as the field turned for home, awaiting another coronation as the Queen of the Turf loafed along at the back of the Turnbull Stakes field.
This, surely, was a mere formality for Winx and her long time partner Hughie Bowman.
Why should this be any different to her previous 27 races, all of which have ended in victory?
The distance, 2000 metres, was ideal, the conditions perfect and the track, a broad galloping expanse which always gives every horse a chance, made to measure.
Six hundred metres out she was travelling easily, still out the back, lobbing along as the pacesetting longshots Trap For Fools and Divine Unicorn grabbed their moments of glory at the head of the group 1 field.
Bowman looked unperturbed as the race unfolded ahead of him.
For a top jockey, ice, not hot blood, is the thermostat in the veins; a second can seem like a minute as a man like Bowman computes the options, sees the gaps open and close, senses his partner's rhythm and just how much fuel she has left in the tank.
Up front, the pace was not slacking.
Kings Will Dream, the Darren Weir-trained Caulfield Cup favourite, was poking up on the inside rail.
Trap for Fools was battling on and Winx's stablemate Youngstar – an Oaks winner as a three year old and no slouch herself – were cranking up the pressure, their riders giving themselves every chance of pulling off the unthinkable.
At the 400 metres mark the crowd might have had some concerns. Winx was still out the back, only a handful of horses behind her.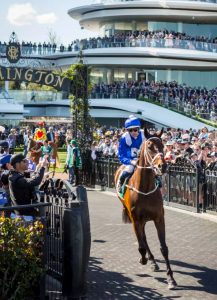 When would she produce that electric burst?
Would Bowman try to find an inside path, or switch her wide?
Would the gap come at all?
Surely she couldn't get beaten. Not here, not today, not in such a picture perfect situation.
At the 200 the wonder mare was getting going, but she still had work to do as Kings Will Dream under Craig Williams was making the best of his way home and the Kiwi Jon Snow, an ATC Derby winner in his younger days, was hanging on grimly for Stephen Baster.
Youngstar, with another cool customer in Kerrin McEvoy in the saddle, was beginning her run.
At the 100 Winx finally came: the timbre of racecaller Matt Hill's voice rose and almost cracked as he described those final frantic half a dozen seconds as Winx got through, cruised past her rivals to the front, with Bowman even having the luxury of easing down in the last few strides.
As theatre on a perfect stage, in front of the vast and luxurious new Flemington grandstand, it was wonderful.
Quite what it did for trainer Chris Waller's heart, nor the health of the intrepid punter who plunged $170,000 on her on race morning at $1.16 to win $27,200, is another matter.
But champions can do almost anything. And Winx is more than a champion.
It's not that she seriously looked as though she was going to get beaten in the Turnbull. Far from it. At no stage was Bowman pushing and shoving, using the whip or cajoling unduly.
But for those once a year racegoers who thronged Australia's most famous racecourse for a once in a lifetime look at the wonder mare who has transcended her sport, it might have seemed like a whiteknuckle ride.
Winx, is in so many ways now a victim of her own success.
When she doesn't dominate, when she doesn't win with her head in her chest, the race decided 300 metres from home, those who don't follow the sport closely can sometimes seem bewildered.
"What more can you say, she does us all proud each and every time," declared Waller, who subsequently admitted to having had a few flutters, after the race.
"She hasn't been there at the back for a long time. I don't know when – The Doncaster was one of those races," he said, referring to her race style this day.
Not that he was complaining about Bowman's tactics.
"Of course its the best way to ride a horse. It was a picture perfect Bowman ride, but you are waiting on a bit of luck.
"Fortunately the gaps came. She had a bit of ground to make up. But we are at Flemington, it's just home for a racehorse, the way they can get on to their right legs, get through their gears, and naturally let down, which is what she did today.
"You get a few flutters, but once she had clear running, what will be will be.
"There will be a day when she is not as dominant, but today all she had to do was repeat her form and she did that."
Craig Williams, who rode Kings Will Dream, was full of admiration.
"My horse is a group 1 star of the future and he ran really well.
"I spoke to Kerrin McEvoy (after) and I said 'you got the margin close, did you have a bit in hand and and he said 'yes, she (Winx) always has a bit in hand' …"
McEvoy was another suitably impressed by the champion.
 "I must say, at the furlong I was thinking, he has to be coming soon," he said, for a split second wondering whether a monumental upset might be in the making.